So, at last, the Weekend In Pop returns. I know you've all been anxiously waiting for it.
There were really no new movies I wanted to see in theatres, but I did catch up on a John Hughes oldie at home: "
Pretty in Pink
" with Molly Ringwald, Jon Cryer, Andrew McArthy, James Spader playing a great high school preppie jerk, and Harry Dean Stanton as Molly's out of work, but well-meaning Dad. And was that Andrew Dice Clay as a bouncer?? Wow. Great cast and sweet story (but weird opening song). I'd never seen the movie before, and was quite impressed. Teen angst at its finest.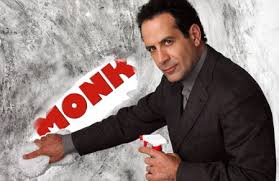 On television, "
Monk
" had a nice surprise for me. They shot scenes at the hotel I visited in L.A. back in June, the Hyatt Regency Plaza. It was kind of weird to see from that perspective. A good episode.
Also watched "Eureka," "Defying Gravity," and "
Mad Men
," which had two or three "cringe" moments. Especially when that slimy Pete Campbell and his wife were dancing at Roger's party. Pete kept looking up at his boss like some sort of trained animal begging for approval. Pathetic. Don't get me wrong, it was a fine performance totally in keeping with the character. Another great scene--things got ice cold when Roger's new wife, Jane (a former secretary), bumped into Joan at the office. Yikes. If you haven't seen it yet, check it out this week on AMC.
Last, but certainly not least, I picked up an old "
Calvin and Hobbes
" collection and reread some of my favorite comics. Those are awesome! There's a new documentary about Calvin's now retired creator, Bill Watterson. You can check out a preview and find more information by clicking
here
.
Looking forward to seeing Mike Judge's new movie "
Extract
" this weekend!