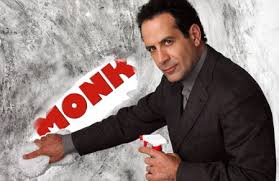 This Friday night marks the beginning of the end for the popular television show, "
Monk
" on the USA network.
This will mark the 8th and final season for the show, featuring Tony Shalhoub as the "defective detective." Shalhoub has won a number of awards for his performance of the character.
I know I won't be alone when the show wraps for good. It has great characters, an excellent cast, and some of the best writing I've seen on television.
It's also something of a rarity; a show you could sit down and watch with your family without fear of embarrassing anyone. You just don't see that anymore.
I had the good fortune to interview Lee Goldberg, a writer for some of the episodes of the show, and the man behind a series of books based on "Monk." You can see the interview below.
JS:
This is it, the 8th and final season of "Monk" starts soon. As a writer of some episodes, why do you think viewers were drawn to these characters?
LG:
They are drawn to the characters because they are fresh, original, and compelling. And although the characters behave comically, they have heart. And what gives them heart is the essential sadness in their lives. For Monk, it's the loss of his wife and not being able to fit in because of his OCD. For Natalie, it's the loss of her husband at a young age and having to raise a daughter as a single parent. That grounds the comedy is something we can all relate to.
JS:
You've worked on some other shows as well, including "Diagnosis Murder," and "Nero Wolfe." How was working on "Monk" different from your other experiences?
LG:
"Monk" is more of a comedy than any series I've worked on before. And Monk's character is a balancing act between the broad comedy and the tragedy. It's not easy to pull off.
JS:
You're also the author of several novels based on characters from "Monk," and you have a new one out right now, "Mr. Monk And The Dirty Cop." Will the books continue when the series wraps?
LG:
There will be at least two more books following the end of the TV series.
JS:
What can people look for next from Lee Goldberg?
LG:
More Monk! And, hopefully, more books, tv shows and movies.
Our thanks to Lee for answering these questions, and don't forget to tune in this Friday night for the "Monk" season premiere on USA.