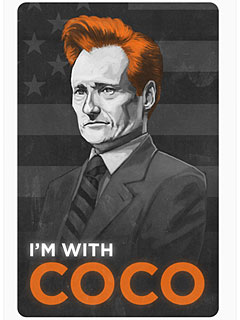 The network that airs some of the best comedies over the past 20 years just got an upgrade! For years TBS has been using the slogan: Very Funny. They just took that slogan to whole new level. Conan O'Brien is moving to TBS, ladies and gentlemen. The move is a surprise to many as most people were waiting for FOX to ink the popular late night talk show host. In the end, FOX could not guarantee that every affiliate would be clear for late night so Coco decided to move to cable. Here's a quote from O'Brien: "In three months I've gone from network television to Twitter to performing live in theaters, and now I'm headed to basic cable. My plan is working perfectly."
TBS has been pushing for Conan from the beginning. Ted Turner and company were able to fork out enough dough, power, and even guarantee him his OWN show (which FOX wasn't). Conan's show will start in November. The network will air new episodes 4 out of 5 nights a week (like Jimmy Kimmel or John Stewart). TBS has already renewed "Lopez Tonight" for a second season. George Lopez is thrilled to have Coco as his lead-in every night. This new deal almost closes the book on the Coco saga that has fueled entertainment news over the past few months.
The book isn't finished yet. That's because Conan O'Brien presents "The Legally Prohibited From Being Funny On Television Tour" begins tonight in Eugene, Oregon. The tour is one of the hottest ticket items this Spring. I'm sure Conan will have plenty of jokes about his new gig as he runs across North America.
TBS is with Coco!
Click here
to see the ad that proves it!